Learn how to invest
Helping you learn how to invest, choose the right investment platform, and select the best investments.
As seen in:


Free email-based investing course
Learn to invest in your ISA or SIPP with our free 7-day email-based course. It takes just 15 minutes per day, through jargon-free videos, pods and blogs.
Step 1
Saving & investing
Step 4
Investment options
Step 5
Investment strategy
Select the perfect platform or account
The Get Investing. magazine
Sign-up to receive the latest issue of our free quarterly e-magazine, bringing you the latest market and industry news, tips for financial planning and the best investing strategies and ideas from the Steps team of leading investment journalists and experts.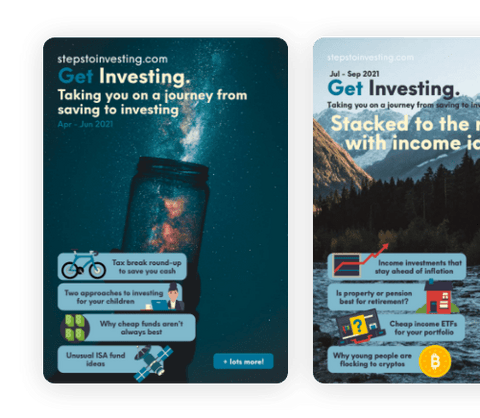 Explore our videos
Get the latest opinions from across the industry, personal stories from do-it-yourself investors, plus answers to common investing bug-bears.