Retirement saving can end-up being a bizarrely ambiguous financial goal. How much do I need each year? What does that buy me? If we don't define the answers to these questions then it makes it hard to know what it is we're aiming for, and whether it will buy the future we want.
Fortunately, the lovely people at a pensions trade body, the pensions and lifetime savings association (PLSA), have done some calculations looking at how much is required to fund three different lifestyles: minimum, moderate, and comfortable; for a single person and a couple too. Let have a look.
How much a single person needs in retirement
How much a couple needs in retirement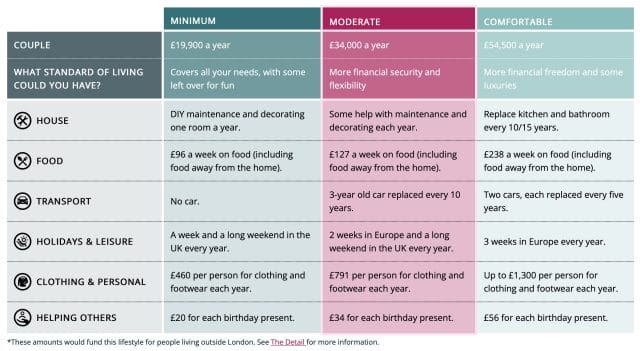 How much do I need for retirement in total?
Fortunately, some more lovely people, this time at AJ Bell, have crunched numbers on this too. Now remember, the full state pension for the tax year 23/24 is £10,600 per person, which goes a long way to funding a minimum standard of living in retirement. As such, on top of this, AJ Bell estimate that a single needs to following pot to fund each level.
'Minimum' standard of living needs a pot of £52,000
'Moderate' standard of living needs a pot of £354,000
'Comfortable' standard of living needs a pot of £755,000
Top tips for getting the best out of retirement
Use the generosity of government tax relief for pension saving. For every £4 you put in, the government adds another £1. If you're one of the lucky ones who pays more tax, then more juicy tax breaks are available.
If you've a workplace pension, max out on the generosity of employer contributions too
Start as early as possible to give yourself a long runway of growth for your investments, and to maximise the powerful effects of compounding.
Track down lost pensions to boost your pot. Here's a link to the government's free pension tracing service.
Add money where you can. Remember, it's not locked up for as long as you think, as you are able to access your pot from 55 (rising to 57 in 2028).
Fill in the gaps in your state pension through voluntary contributions, although you can only go back 6 years on this.